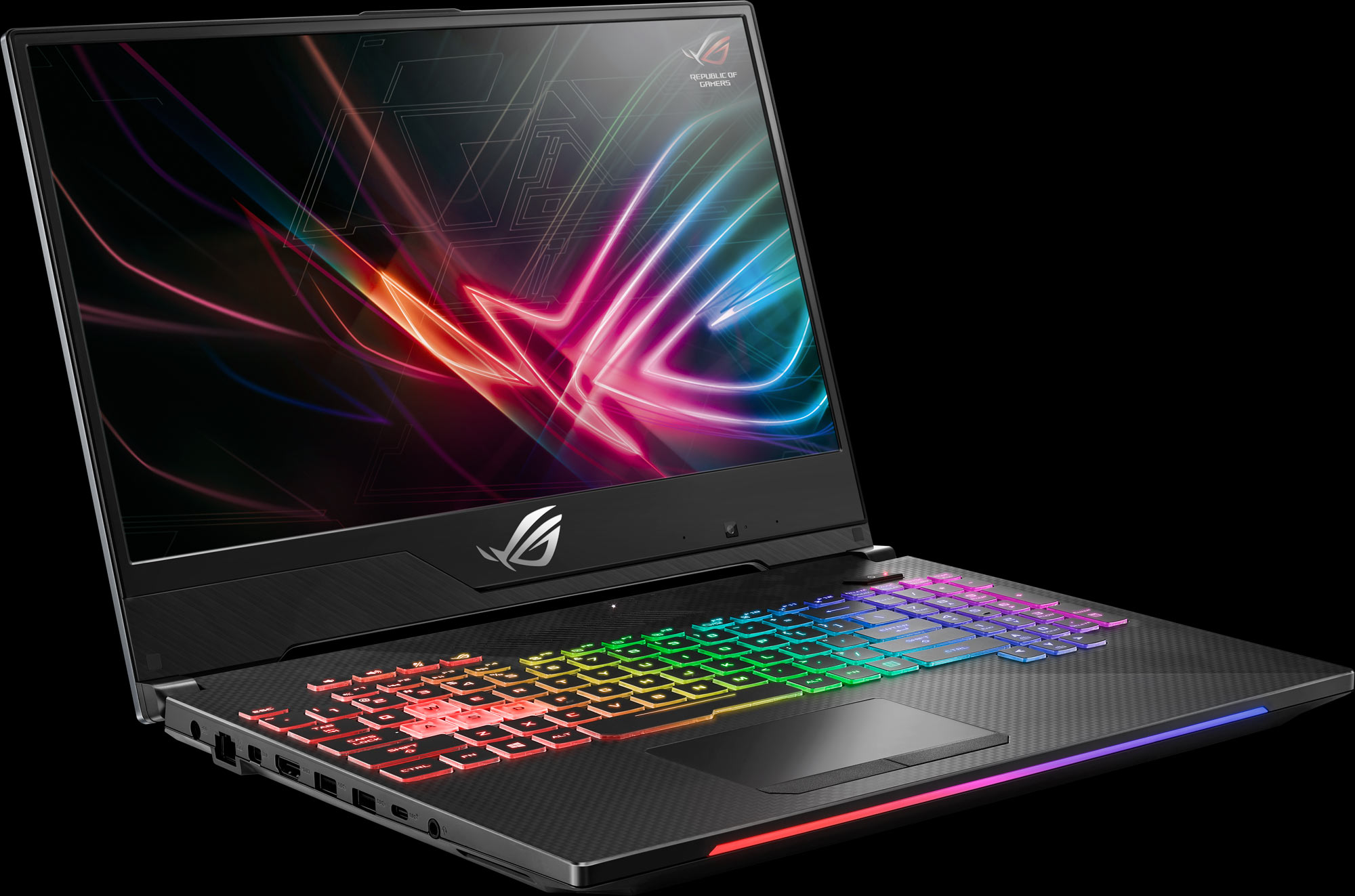 Cramped spaces like packed tournaments and airplane seats can suck the fun out of gaming on the go. Even if you're playing on a machine with top-shelf components, it takes a lot to block out the distractions of the surrounding environment.
The new ROG Strix GL504 Scar II and Hero II gaming laptops help with a narrow-bezel design that gives you a more immersive experience for away games. A slim frame makes the display feel more expansive and keeps all of your focus on the class-leading panel, whose 144Hz refresh rate and ultra-fast 3-ms response time bring games to life with velvety smoothness and exceptional clarity.
The right frame of mind
One of the main benefits of a thinner bezel is that you can fit a bigger display inside a more compact chassis. Despite packing a similarly sized 15.6" screen to its Strix GL503 predecessor, the GL504 is nearly an inch narrower, making it easier to slip into your bag. The smaller footprint also takes up less space when you're sharing a desk or otherwise squeezed into tight spaces. While thinner borders around the display make imagery really pop, the thicker bezel below elevates the screen to a more comfortable viewing height.
Rebirth of cool
If modern CPUs and GPUs get too hot, they automatically reduce clock speeds to avoid overheating. But the resulting slowdown is the last thing you want in the heat of battle, so our HyperCool Pro system keeps key components at comfortable temperatures.
Heatpipes transfer thermal energy from the CPU and GPU to radiators on the perimeter of the chassis. The metal heat spreaders normally reserved for these chips are also found on the graphics memory and VRMs, allowing the cooling system to dissipate thermals from additional components. GL504GS versions of the laptop with GTX 1070 graphics go even further by adding extra heatpipes for the GPU and VRMs to combat the additional heat produced by the more powerful pixel pusher.
Despite their compact footprints, the Strix Scar II and Hero II still squeeze in a full-size keyboard and an accompanying numpad. The desktop-style layout features familiar spacing between the function for a more natural transition when switching between your laptop and home battlestation. Four dedicated hotkeys sit just above the keyboard to provide quick access to mute and volume controls, as well as the ROG Gaming Center application used to tweak system settings and monitor performance.
The keyboard is fortified for the rigors of fierce gaming and grueling competition. With a lifespan of 20 million key presses, it's durable enough to survive years of intense gaming marathons. The generous 1.8 mm of key travel is enhanced by our Overstroke technology, which moves the actuation point higher so your inputs register sooner. Overstroke makes it easier to rapidly execute commands during intense bouts, while N-key rollover ensures every press registers, even if you're hitting multiple keys at once.
Smarter networking and copious connectivity
A strong and stable network connection is a must for online gaming, whether you're playing competitively in tournaments or casually with friends. The integrated 802.11ac WiFi on the Strix Scar II and Hero II is based on Intel's latest Wave 2 solution, which is capable of greater than gigabit speeds when connected to compatible routers like the ROG Rapture GT-AC5300. The wireless card is hooked up to four antennas, a first for laptops. Our RangeBoost technology monitors these antennas to determine which ones have the best signal and then switches automatically to ensure that you're using the best pair for the conditions. Wireless networks are more prone to interference and lag than hardwired alternatives, so the Strix has Gigabit Ethernet for serious multiplayer matches.
Audio is pumped out of dual speakers driven by SmartAMP technology that lets you turn up the volume without drowning in distortion. Headsets plug into the 3.5-mm combo jack or via USB. Our Sonic Studio III serves up numerous effects tailored for different scenarios, including surround sound virtualization for stereo headsets. These enhancements used to be limited to analog headphones, but a new APO injection feature introduced with the Scar II and Hero II allows them to work with USB DACs and headsets like the new ROG Delta, so you can enjoy upgraded audio with any device. Game audio output is further augmented by Sonic Radar III, which maps positional cues on a customizable graphical overlay that helps you train your ears to detect the sonic subtleties of the battlefield.